---
PCWORLD.COM
'Darn good software doggone cheap', Dec. 2001

The Macintosh version of ProjeX has been written and tested on a machine running OS X and MS Excel:mac v.X.
To download and install ProjeX :
Put the archive file in a new folder (say and uncompress it using the standard tool). You will find it contains the Mac version of the ProjeX Excel add-in.
From Excel go to the Tools menubar option and select the Add-Ins option and the the Select option from the Add-ins dialog that appears. Go to the Folder where you put the add-in, select it and then Open it and then Okay out of the add-in dialog.
Successful installation of ProjeX will result in the ProjeX menu appearing between Window and Help on the Excel menubar.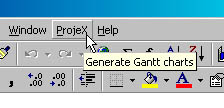 ---
The Mac version of ProjeX was ported/written on a machine running OS X with Excel:mac v.x
It may run with other set-ups, please let us know.
---