---
PCWORLD.COM
'Darn good software doggone cheap', Dec. 2001

There is now only one version of ProjeX available for download over the Web. The freeware version has limited functionality but does not run out. This version is for Excel 97 and above, there is a version available for Excel 95 but no new features will be added. Once you have had time to use the freeware version you can register for the full version of ProjeX which gives you added functionality.
To download and install ProjeX :
Put the zip file in a temporary sub-directory and uncompress it using a tool such as Winzip. You will find four files :

File_id.diz
projex.doc - A word format document describing the ProjeX add-in.
projex.txt - A text format file of the above.
Proj9715f.xla - The Excel add-in macro that will generate the Gantt charts

Copy the ProjeX add-in file (Proj9715f.xla) to a sub-directory, perhaps called ProjeX.
From the Excel toolbar, go to Tools and then select the 'Add-Ins' option and then Browse to where you unzipped ProjeX , select it and then OK out of that dialog and the Add-Ins dialog.
Successful installation of ProjeX will result in the ProjeX menu appearing between Window and Help on the Excel menubar.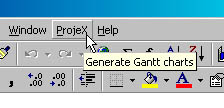 ---
ProjeX runs on any machine that is running Excel 95 or later. It should be noted that the version of ProjeX that runs on Excel 95 is frozen, all development work is now for Excel 97 on. It does not matter to ProjeX whether you are running Windows95, NT or XP, Excel 97 or 2003.
There is now a version of ProjeX that runs on the 'Mac', it has been ported to OS X, written for Excel:mac v.x

---